Great news from Raspberry Pi today. They've now sold 10 million Raspberry Pis! In four and a half years! Not bad going, really! 😉 So, congratulations to everyone who is now, or has ever been, involved.
To celebrate this, they have today announced that they are releasing their own starter kit. Pictured below, the kit contains:
A Raspberry Pi 3 Model B
An 8GB NOOBS SD card
An official case
An official 2.5A multi-region power supply
An official 1m HDMI cable
An optical mouse and a keyboard with high-quality scissor-switch action (please note: this may be a US-layout keyboard, still looking for clarification on that)
A copy of Adventures in Raspberry Pi Foundation Edition
A very nice box to keep it all in.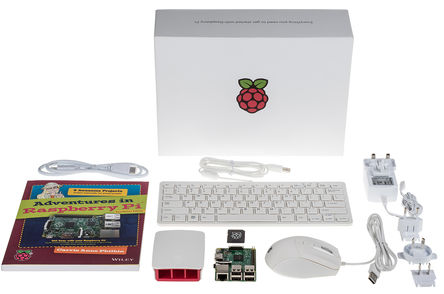 Priced at £99+VAT, you can get the kit from RS Components and element14.