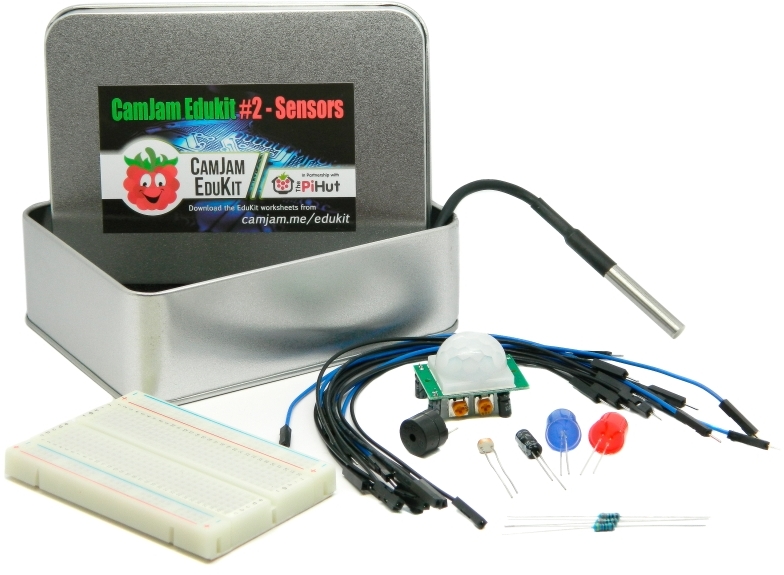 Myself, Tim Richardson and Jamie Mann from The Pi Hut have teamed up again to bring a low-cost electronics kit to market. Following the international success of the first CamJam EduKit, we wanted to produce something more advanced, but still within the capabilities of the beginner programmer. We came up with the CamJam EduKit – Sensors. This kit (which like the first comes in a lovely tin) contains all the components you need to measure temperature, detect light changes and detect movement. You get a breadboard with which to make up all the circuits, plus all the wires and resistors you need. You also get a couple of LEDs (because everyone needs blinkies) and a buzzer. The temperature sensor, in particular, is lovely because it comes as a shrouded module on the end of a long wire so you can measure the temperature outside, or of a cup of water (or, indeed any liquid). The whole thing costs £7 including VAT, which we're hoping you'll agree is great value and perfect as a stocking filler! 🙂
As with the first EduKit, this one comes with a suite of worksheets for you to work through, with explained code examples and circuit diagrams. These have been produced by Tim and tested by me and we're really proud of the way they've turned out. As with the first EduKit, these worksheets will be updated and tweaked as we receive feedback (some of which we have already had from our beta testers), so don't forget to sign up to the mailing list! While I'm here, I'd like to give a big shout out to our beta testers, especially Richard Saville (the Average Man) and Sway Humphries, who have given us such excellent feedback.
You can get hold of the new EduKit by going to http://camjam.me/edukit2 and following the link to The Pi Hut.