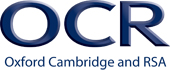 A couple of weeks ago, I blogged that OCR had released a batch of rich, educational material for teachers to use in their ICT lessons. I've checked back this morning and they've doubled the number of documents available. The new documents are as follows:
A comprehensive Getting Started guide and tutorial. (This is perfect for beginners, regardless of whether they're in education or not!)
Two "recipe cards" which are essentially very small, quick projects.

Flashing LED (done without a breadboard, which isn't the best idea, but hell, it works!)
Singing Jelly Baby – play a sound when you squeeze a jelly baby. (This sounds nuts, but apparently is a party trick for the Foundation's techies. I think there is a picture missing of how to put the paper clips in, so I'm not sure how much use it will be).

Classroom Challenge: Hardware Characteristics – learner/teacher worksheets taking you through various aspects of hardware. Quite tricky, this one.
Classroom Challenge: Hardware Hacking and Robotics – learner/teacher worksheets using the PiFace add-on board. (This is the 'fun' one, of course, but the PiFace isn't exactly cheap at £20. Some of the photos on this one are a bit 'muddy')
I commend OCR for continuing to release these tutorial sheets. They're well-produced (okay, some of the photos could be better) and cover a lot of the basic projects you would want to undertake. In fact, any beginner would benefit from working through the sheets, even if they're not a teacher or a pupil.
I'll keep an eye out for more material being released.