Exciting news today: the Raspberry Pi Zero is here!
It's half the size of an A+, has twice the memory (512MB) and will likely run 30-40% faster than the A+ thanks to some special magic (Read Alex Eames' blog post for more details).
Alex Eames has done a video walkthrough to go along with his blog post.
Here's Eben Upton introducing the Zero in his own inimitable way:

What do you get on it?
With unpopulated headers, microUSB instead of full-sized USB and a miniHDMI rather than a full-sized HDMI, this is about as small as you can get a Raspberry Pi. Measurements are: 65mm x 31mm x 5.4mm. It is infinitely suited to wearables and embedded devices and, because it's oven-ready, so to speak, it's a lot more usable than the Compute Module is for hackers and enthusiasts. It's not necessarily suitable for kids or first-time Pi users (because of the need to use adapters) but I don't think that's who it is aimed at. I think it is aimed at the IoT and wearables market and will appeal to that certain type of hacker who just wants everything as small as it can go. I'm looking forward to getting my hands on one and re-spinning the Picorder, for example. Having said that, it's a great way to pique the interest of potential new users, especially when it is being given away free on the cover of The MagPi!
The Zero is Raspberry Pi's answer to the ODROID-W (although it doesn't have the power circuitry) and, especially, the CHIP (which, price-wise, the Zero knocks into a cocked hat – $9? Pha!).
So how much is it? Where can I get it?
The Raspberry Zero costs $5 overseas and only £4 (including VAT) in the UK. Yes, you read that correctly. You can buy it from The Pi Hut or the Raspberry Pi Swag Store and this month only you can get it for free when you buy The MagPi (issue 40). How did they get it that cheap? They sacrificed full-sized ports, made it smaller, and, vitally, put all the components on one side of the PCB, making it much cheaper to produce.
Accessories
The Pi Hut has done a very sensible thing and brought out what they are calling the Zero Essentials Kit.
The kit contains everything you need to make the most out of the Zero. It includes headers galore (to allow you to customise the unpopulated GPIO header) plus an HDMI adapter and a USB OTG cable to give you a full-size USB port. It also includes some handy sticky 'feet' for your Zero – because who wants to pay for a case for something that is £4? Oh, and it comes with a lovely tin to keep everything, including the Zero, in. Everyone likes tins. 🙂 Get your Zero Essentials Kit here or buy it with a Zero here.
What will you use yours for?
As I said previously, I'm going to create a new, much smaller, Picorder with one. Let's see how small I can go! Plus wearables, IoT devices, handheld retro gaming machines. Anything where space is at a premium, really.
Limited run
Bear in mind that this is a limited production run. Depending on what interest there is, there may be more produced, but you should get your hands on a Zero while you can!
Conclusion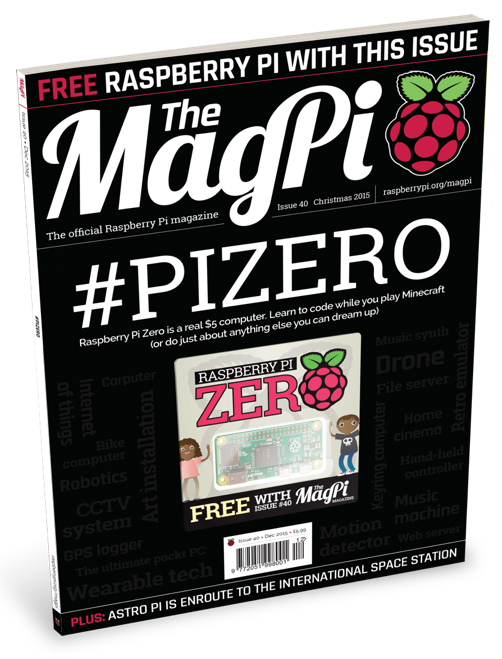 I got my hands on a Zero on Wednesday evening and… it's just so darned cute! It's tiny, and it's a whole computer! Great for embedded and IoT devices, great when size is an issue, and great in terms of the performance it offers, especially the half Gig of RAM.
By providing unpopulated headers, you can add what you like – you want female headers? Easy – just solder them on. You want to solder directly to the GPIO pins? No problem. By removing components, the Foundation has given us something which is customisable according to the needs of the user.
Perhaps the most amazing aspect though is that it is being given away on the cover of The MagPi, making Raspberry Pi the first company to give an entire computer away on the cover of a magazine. The MagPi is a fantastic publication anyway, but when you consider that it's going to include a Zero, it makes this issue more unmissable than ever.
I thoroughly recommend the Zero. If you need the extra power and convenience of full-sized USB ports/HDMI then the Pi 2 is still the way to go, but for those special projects where you want to sacrifice a Pi, of if you're just starting out and don't want to spend much, the Zero is ideal. Match it up with something like the Zero Essentials Kit from The Pi Hut and you've got a full computer with full-sized connections for about £10.
What do you think?
Leave a comment below – tell me what you think of the Raspberry Pi Zero!
Top photo and the one of the Zero Essentials Kit are by Alex Eames. Photo of the MagPi by The MagPi